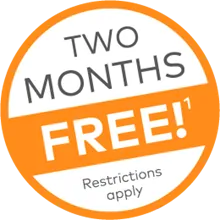 Why choose a Cinch home warranty?
Our network has thousands of pre-screened service providers.
We guarantee our work for 6 months – at no additional cost to you.
Multiple customer service awards year after year.
Real stories, real customers
"The service of Cinch has been great. My claims process for the upstairs heating unit went really well. The techs were great. They fixed it the same day I made an appointment."
"Every time I submitted a claim, I had a good experience. I usually receive a response within 24 to 48 hours. Cinch has chosen to use reliable companies 'cause I've never had a problem with any of the companies that have serviced me."
"I like the service with Cinch. Whenever I call, I'm able to get a tech out to my house within a couple of days. I haven't spent a whole lot of money out of pocket. The technicians that I've had for my issues have all been very knowledgeable. I love Cinch. It's money well spent. Whatever it costs a year, it's worth it for me."
When should I buy a Cinch Home Services home warranty?
Although it's best to get a home warranty as soon as you become a homeowner, you can purchase a plan at any time during the buying, selling or home-owning experience.
Even though purchasing a home warranty is important when buying or selling a home, you will also want to purchase a warranty when your existing limited-time warranties expire or when you remodel and add new appliances or systems to your home.
What is not covered by a Cinch home warranty?
While a Cinch home warranty plan offers a wide range of coverage, some situations are not covered by a home warranty, including:
Neglect and failure to do scheduled maintenance

Cosmetic dents and scratches to appliances

Non-mechanical items in the home, such as windows, walls, doors and the roof

Improper installations or repairs

Pest damage

Misuse
Unlike many other plans, Cinch's home warranties usually cover "unknown pre-existing conditions." To fully understand what isn't covered, read the details of the "General Exclusions and Limitations" section of a plan's terms and conditions.
What is the difference between a home warranty and homeowners insurance?
While home insurance policies are typically required for homeowners, a home warranty plan is never mandatory. But since insurance policies don't cover costs for daily wear and tear to the appliances and home systems you rely on, warranty coverage can save you a lot of trouble and money.
Homeowners insurance covers four primary areas of your home:
Personal property that could be stolen or damaged

The interior of your home

The exterior of your house

General liability that covers you if someone gets injured on your property
Home warranties generally cover failures incurred from daily wear and tear to both your home's major appliances and systems such as:
Major kitchen appliances like your fridge or built-in microwave

Clothes washer and dryer

Water heater

HVAC systems

Plumbing and electrical systems
Who are the independent contractors that Cinch sends to my house?
We match your repair request with one of our thousands of vetted service providers. Every service provider that we refer has undergone an extensive screening and selection process, which includes, but is not limited to, license checks and verification of active liability insurance. We also have a continuous process of monitoring our service providers and scoring them based on customer feedback.
My home's systems and appliances are old. Does Cinch cover them?
Home warranties are not just for new appliances and systems. A home warranty plan has several benefits for owners of older appliances and systems:
Fill coverage gaps: The manufacturers' warranty plans will likely have expired on your older appliances and systems and homeowners insurance doesn't cover damage due to wear and tear.

Save on repair costs: A home warranty plan helps replace large, unexpected costs with a small, predictable monthly plan.

Get qualified repair service and a low service fee: A home warranty plan connects you to a network of experienced service providers, and all Cinch plans guarantee their work for up to 180 days.

Get matched with a service pro: Our customer service takes care of matching you with an in-network service provider when you make a claim, so you don't need to go searching for one yourself.

Secure your peace of mind: Inevitably, one of your items may breakdown, but with a warranty plan, you won't need to dip into long-term savings or credit to pay for it.